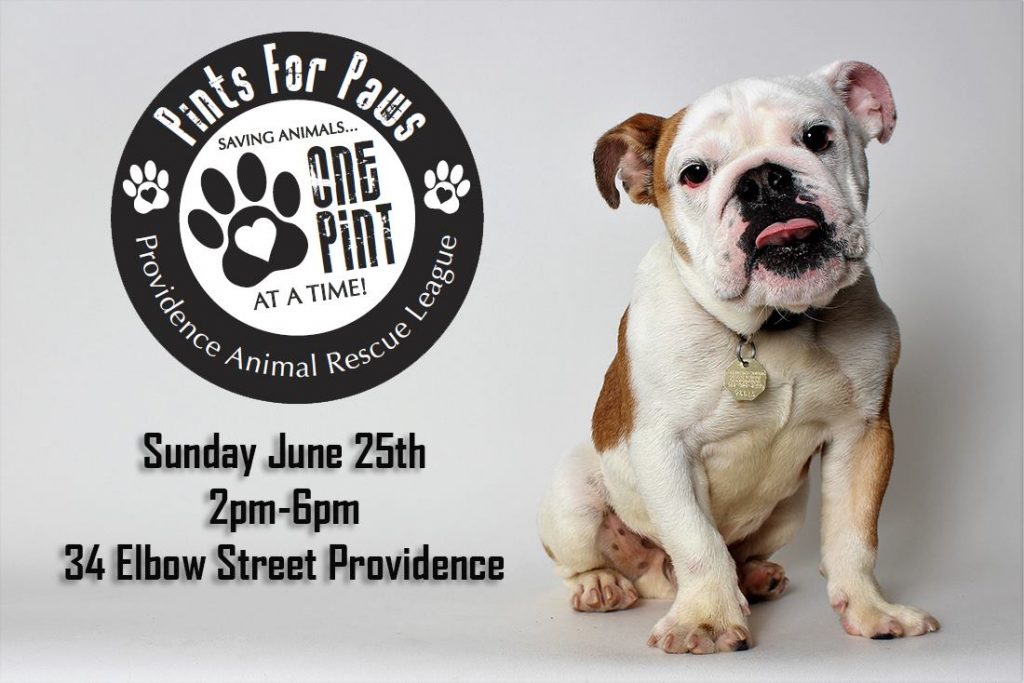 Pints for Paws
Sunday June 25th, 2017
2:00 PM – 6:00 PM
34 Elbow St
Providence, RI 02903


Beer lovers and dog lovers, unite! The Providence Animal Rescue League's annual fundraising event is returning in 2017 for its 8th year in a row. Join us at 34 Elbow St in Providence this Sunday to help raise funds for the Providence Animal Rescue League by drinking beer, eating food , and listening to live music!
Many members of the Rhode Island Brewing Society are animal lovers who have had their lives improved with the love of a rescued dog, cat, or other small critter from the Providence Animal Rescue League and are excited to have the opportunity to give back by doing what they do best, brewing beer! While you're enjoying a lineup of our pet themed beers, your furry friends can enjoy a variety of dog treats made from different batches of spent grain. Spent grain dog treats are made by RIBS members using the grain left over from the brewing process; it's a great way to reduce waste and dogs LOVE them!
The Pints for Paws Beer Tasting is $25 and entitles you to samples of beer from us as well as breweries from around Rhode Island. Every penny of the ticket price goes directly to support programs to help animals in need. Additionally, for the first time ever Pints for Paws is having a Block Party that's free to attend and provides access to beer, food trucks, live music, raffles, pet supplies, microchipping, a games area, and doggie pools for cooling off if it gets too hot for your puppers!