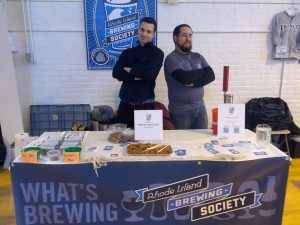 This is it people, the big day is almost here and it is certainly going to be the highlight of your February. February 1st, the RI Brewfest (http://www.ribrewfest.com/) returns to the Pawtucket Armory, boasting 165+ beers on hand for your sampling. If you haven't bought a ticket already, I suggest you do. Here's a list of the beers we're offering for samples. We only have two taps and the beers may be in kegs or bottles. There's also no real schedule as to when they'll be available, so come back often to try them all!
Three Sons 60 Minute Double IPA
This Double IPA is continuously hopped every minute for 60 minutes with Chinook, Centennial, Cascade, Glacier, and Nugget hops.  Dry hopped with Cascade, this mighty beer measures 108 IBUs and 8.0% ABV.
Red Barn Coffee Oatmeal Stout
A very dark, full-bodied, roasty, malty, ale comprised of Roasted Flaked Oats, Chocolate Malt, and Roasted Barley. Hopped with East Kent Golding, then finished with cold-brewed coffee to round out this easy drinking beer. 5.1% ABV
Hoppy Wheat Ale
This is a low ABV beer weighing in at 3.5%, but is hopped with Columbus for bittering, Willamete and Cascade and finished with Sorachi Ace and Mosaic for aroma. The malt bill is a 50/50 split of 2-row and White Wheat and add a little Caramel 10 for sweetness.
'Murican Ale
A partial extract ale weighing in at 4% ABV. Amber in color, it is well balanced with Cluster hops for both bittering and aroma. This mild ale is very sessionable and a great "gateway" craft beer.
Darkside Dunkelweizen
Dunkelweizen, literally translated as Dark Wheat, but don't be afraid of the darkside. It's amber to deep ruby in color and will taste like the German Hefeweizens you may have had before. Hold the lemon though, this one doesn't need it. At a respectable 4.4%ABV and flavored with Tettnang hops this beer is meant for enjoying while rambling the streets of Munich.
Peace Coffee Stout Porter
Dark as a winter's night, this beer takes the best qualities of stouts and porters to make an uncompromising beer that will surely wake you up. After the beer was brewed a half pound of crushed Fair Trade coffee beans were added to the fermenter and take a dominant role in the tasting. Golding hops provide some nice aromas to augment the assertive coffee notes. ABV 4.375%
These beers will all be on Untappd(untappd.com) so you can check into them and give us ratings and feedback. Links to them will be posted in our booth.
See you at the Festival!
PS. We'll have our 'Make your own pretzel necklaces' area returning