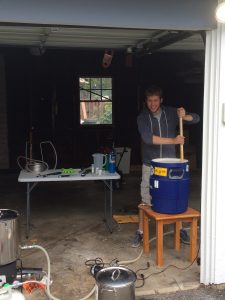 My story of how I got into homebrewing coincides with my development as a craft beer drinker. When I was in college, I never cared for light domestic lagers (I only drank them out of necessity)- I was the guy in the room drinking Sam Adams or Long Trail (fancy beer). I didn't really understand beer styles in those days, but as I got older, my palate developed and I started appreciating a wider range of styles. I definitely got into the hop craze and over-indulged in my share of IPAs. But it wasn't an IPA that got me into homebrewing- it was Saranac Caramel Porter (I tried it at a beer festival). At the time, the beer tasted like candy, and I couldn't find it anywhere else outside the festival! Then one fateful night about 5 years ago, I met a homebrewer (and currently RIBS President) named Alex MacIntosh who brought his homebrew to a party of a mutual friend. It never occurred to me that you could brew beer at home! We quickly hit it off that night, and he later invited me over to his apartment where he showed me how to brew an extract beer. I was so amazed that I asked him if I could brew a beer using his equipment, and he graciously allowed it. My first target: a caramel porter. I ordered a recipe from Northern Brewer for a smoked porter along with some caramel extract. I remember the base beer tasting pretty good. We used an eye dropper to measure the caramel extract in a sample size then Alex, using fancy math on a chalk board in his apartment, scaled that up to a 5 gallon batch. The beer exceeded my expectations. I was hooked.
I soon acquired my own equipment and later that same year, Alex and I both went all-grain and we shared a 10 gallon converted Igloo cooler as a mash tun (which is still my setup today!). We traded the cooler back and forth for years (you hear about the gypsy brewer, but not so much about the gypsy brewery). My homebrewing hobby quickly began to consume much of my life. For a few years, I was catching shoplifters in retail. I would be in the camera room listening to podcasts from The Brewing Network. I also read a book on homebrewing during my lunch breaks. It didn't take long until I began reading those books outside of my lunch breaks…instead of actually catching shoplifters. Needless to say, I wasn't happy with my job at the time, and I wanted to see if I could jump into the craft beer industry. Long story made short- I made the jump, and I now owe my current career in craft beer to homebrewing (I'm currently a bartender and Level 2 Certified Cicerone at The Malted Barley Providence). I couldn't be happier.
Today, Belgian-style beers, Brett beers, and sours are my niche (both as a drinker and homebrewer) and I also love creating experimental beers. I still like IPAs, but I'm honestly a bit bored of them, so they get brewed less often. But what I'm most excited about is that I'm in the process of starting a full blown sour and blending program in my homebrewery. My wife and I just bought a new house, so my homebrewery got some major upgrades- including a chest freezer for fermentation-temperature control.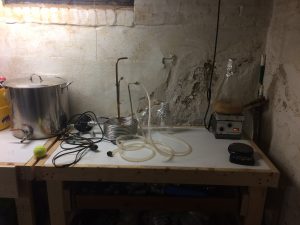 For the last few years around September/October, I brew the following Belgian Quad for my birthday in January. It has won a couple of medals in local competitions and scored a 41 in the NHC in the Wood Aged Beer Category!
Birthday Quad
6 gallons
1.085 OG
1.016 FG
9.2% ABV
11# Weyerman Pilsner Malt
2# Munich Malt
1#Aromatic Malt
1#Flaked Wheat
.5#Special B
Mash @154F
.4oz Warrior (60 min)
2oz Hallertau (15 min)
4.2g crushed coriander seed (5 min)
1.4g cinnamon stick (2 min) (like half a cinnamon stick)
Ferment around 72F with WLP500 Monastery Ale Yeast
On day 4 of fermentation, boil for 15 min/cool to room temperature 1# of D90 Belgian Candi Sugar and add to the fermenter. Shake fermenter to mix the syrup in.
On day 6 of fermentation, mix 1# of Turbinado Sugar with water until the sugar has desolved. Boil for 15 min then cool to room temperature. Add mixture to fermenter. Shake to mix.
Once fermentation has completed, transfer to secondary on top of 3oz of Medium Toast American oak cubes for two months. As much as bottling sucks- I prefer how this beer tastes when bottle conditioned compared to on tap. Cheers!