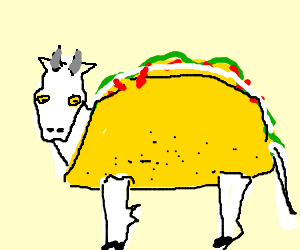 This has been a long time in the making and we are absolutely thrilled we can finally announce the fruition of a crazy plan. Starting today we are opening the doors of our brand new RI-based brewery, Goat Taco Brewing Co.! This brewery will be unlike any other brewery that has come before because it is built by homebrewers and staffed by different hombrewers, each week. A rotating cast of brewers means that the beers we produce will encompass all the diversity, free-thinking and defiance that the Ocean State has to offer. Our starting line up will consist of the following member created beers:
Pasty Nerd Pale Ale
A pale ale that reminds you of all that time you spent playing D&D in your parent's basement. Only a few shades above clear, this beer is hand crafted by local nerds and the ingredients are decided by a D-20. The perfect beer for a 24 hour LAN party.  ABV 3.0%
Pressed Ham Rauchbier
German Smoked Ale that will convince you to loosen your belt and press your money maker right against a bus window. 100% Organic Ham juice is extracted from locally raised pigs and added into the bright tanks for maximum flavor. Brewed with 3X the amount of smoked grains as any other Rauchbeer out there, this porky beer weighs in at a hefty 13.3% ABV.
A-Okay Acorn Nut Brown
Can you say extreme bitterness? Style guidelines be damned! We robbed several squirrel dens right before winter so that we got only the choicest of acorns for this beer. Don't worry, we gave the squirrels a home and plenty of bird seed so they didn't starve. We then toasted the acorns to bring out their natural nuttiness and mixed them with some Marris Otter base malt and a healthy dose of Warrior Hops to really hit the flavor profile home. ABV 7.8%
Keep your eye out for these brand new beers at local bars this spring! We would love to hear your feedback as you try our new libations. Cheers!