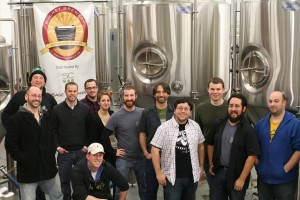 It was over a year ago when we went to that forsaken place…. the kind of place that only the downtrodden and hopeless would congregate. The population was rife with scurvy. Lights barely lit the room and the seats were covered in splinters….. Oh wait that was last night. What I'm really here to talk about is (new) Bucket Brewery. The last time we visited our friends at the Bucket Brewery it was the waning of 2011. They had a small space with an advanced homebrew setup and a 1bbl capacity. They powered through the years like a nugget of snow rolling down the side of a mountain. Now in early 2014 they've picked up a steady pace and are ready to smash through that small town at the bottom of the hill.
Along with some serious momentum they have expanded to a new space in Pawtucket and some serious new equipment. Shiny new 10 bbl fermenters divided the large warehouse space into two areas. One side a tasting room, the other a bottling and kegging area. A Glycol chiller in it's own mini garage supplies the fermenters with a regular temperature that keeps the beers coming out consistent, clear and fresh. The ceiling was lined with a maze of pipes to dispense the glycol. A small door near the entrance led to the grain room which contained a grain massive grain mill, who seemed all too happy to be on the team.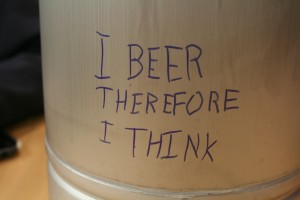 Off in the corner was the tasting area and a red square painted on the floor below it. This red square marked the size of the old brewery. It was amazing they ever got the job done in that small a space. We got to all taste their latest round and it was evident how much their craft has come along.  We even got to decorate some of the newest kegs.
It was a great way to spend a Saturday evening and if you get the chance I highly recommend  it. Here's to more bucket!