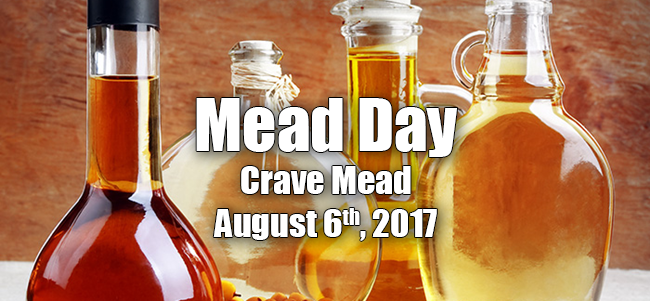 Mead Day
Sunday August 6th, 2017
12:00 PM – 4:00 PM
Crave Mead
7 Main St
Blackstone, MA 01504


Get ready for an epic Mead-up! On Sunday, August 6, RIBS is teaming up with Crave Mead and Girls Pint Out to celebrate Mead Day! Mead Day is an official American Homebrew Association event created in 2002 to increase mead awareness and foster camaraderie among meadmakers. From noon to evening, come join us in honoring the original fermented beverage with samples of mead and beer, food, games, and a demonstration of actual meadmaking!
Guests are invited to increase their awareness by sampling from Crave's catalogue of fine meads, then try a selection of the Rhode Island Brewing Society's homebrewed mead and beers. Food will be provided throughout the day by RIBS and Girls Pint Out. Over half a dozen homebrewing demonstrations will be carried out throughout the event, and we guarantee that you will leave with all the knowledge you need to brew your own at home! No tickets are required for this event, but all guests must be 21 or older.