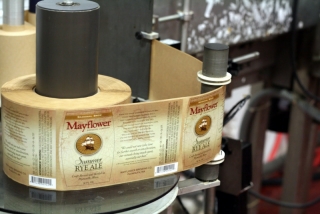 Gather round fine libators and let me regale ye with a story of old as it was told to me by a fair lady who knew of the brewing process. As legend would have it the Pilgrims who sailed from England on the fine vessel named the Mayflower settled Plymouth for one simple reason….BEER! The geography and geology support this claim. The water is the right hardness and the soil is ideal for growing the finest of barley. Just one more piece in America's rich beer history.
Now we flash forward to modern times. During which a man tired of his 9-5 job decided to start a brewery and live the good life. (As we all have thought about at one time or another) Fast forward 8 years later and we find ourselves touring a fine facility boasting a 20 Bbl brewing capacity. With a number of 40-100Bbl fermenters at the facility, distribution in MA, NH, RI is no problem for this craft brewery.
Having done a fair amount of beer exploring I was no stranger to Mayflower brews, though for the most part they were the mainstream year round ones. Not that they're not all solid players, but I have to say the seasonal line up was quite enjoyable. For my money I especially liked the Summer Belgian Rye Ale. It was crisp and refreshing as a Belgian should be but with a nice hop aroma that danced on the back of your palette.
All in all I would recommend doing the tour and the tasting, both were very informative and a good way to spend a Saturday. Till we sail again, stay quenched.
Cheers!