It is hard to imagine the anticipation of driving three and a half hours to New Hampshire, unless you are a home brewer on your way to the Home Brewers Jamboree. Those who are not familiar with the Home Brewers Jamboree, it is an event that has been put on every year for the past 18 years. The Home Brewers Jamboree lasts for two days and is a great place for home brewers and home brew clubs to talk shop, sample each others beers and camp. Not to mention the great BBQ, live music, fantastic beers, and all the proceeds go to the NH chapter of the Make-a-Wish Foundation!
Many of are now thinking "Well RIBS has been around for several years, but we have not heard about it. What gives?". Truthfully many of us did not know about such a magical event! We did not know about the event until HopBack Nate told us about it, he even showed us video proof!
I showed up a bit late on Friday night, I was told to go to the giant beer bottle. After some confusion I found myself standing in front of an 8 foot tall beer bottle decked out with lights. This is the point where I found Nate and Chris.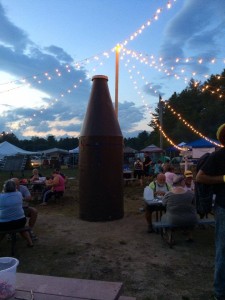 Nate was in his element with a big glass of cold home brew, Chris was in his element too, covered in butter and eating a freshly boiled lobster. I did mention camping, well I do not actually have camping supplies, nor a ticket for entry on Friday night
(Rooky mistake). I only had permission to drop off equipment and supplies for the club. I would have to return Saturday.
Finally the day had come, RIBS was ready to rock and roll for the first time at the Home Brewers Jamboree! Oh wait! Not only was this the first time RIBS had been to the Jamboree, it was the first time Rhode Island had ever been represented at the event in 18 years!
The day was filled with home brewers from all over New England (even some patrons from Little Rhody!) everyone looking to enjoy home brewed beer. The weather had other plans, between bouts of extreme heat and humidity the sky opened up to drench any patron that could not squeeze under a tent. Despite the periods of drumming rain, it did not wash away the spirit of the weekend, everyone was having a great time no matter what the weather. As the night came to a close the clubs packed up their kegs that the 1000+ attendees drained and club members began to pack up and talk about next year.
The event truly embodied what it meant to be a home brewer. RIBS is already starting to plan the logistics on attending next year! Looking forward to seeing everyone there!
There are more pictures in the gallery.