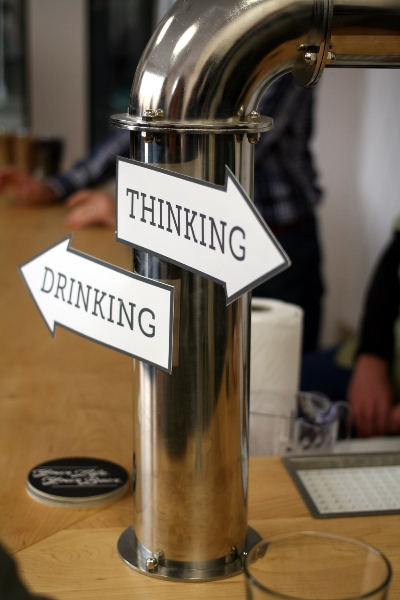 Recently, RIBS had the pleasure of touring one of Rhode Island's newest craft breweries, Foolproof (formerly HighJinx). The brewery has only been open 7 short weeks but has already made a splash in the local beer scene. The three person power house of a staff has been putting in long hours and to them its really less of a job more of a labor of love. To them beer isn't just about a tasty drink but it is more an experience  To underscore this mentality each of their three beers is named for that experience. Currently they have:
Barstool, a very sessionable golden ale
Backyahd IPA, an "East Coast" IPA bridging the gap between West Coast IPAs and English IPAs
Raincloud Porter, A bold porter sure to keep you warm on the rainiest of days
While these three beers are the first to market, there is some talk of adding seasonal into that line up. But we don't want to ruin the surprise, you'll just have to go ask the staff while you're on their tour. Their brewhouse is pretty state of the art with touch screen controls and glycol cooled fermenters. Though, for all these modern conveniences they still do canning and bottling by hand. Even though Foolproof has only been open a few short weeks they are already looking to expand so they can meet demand. The building they are operating in has nice tall ceilings perfect for larger fermenters, so expansion can occur up and not out.
The brewery itself is just a stones throw away from another brewery we visited Bucket Brewery, both in Pawtucket. Tours occur on Saturdays and are well worth it. Don't be afraid to mention you are a home brewer and they may give you a more in depth tour than the average person may get.
Pictures courtesy of Eddie and Chris
Till next time, Brew Local, Drink Local.